Attention: I'm Spilling The Beans Of How I Scaled Fortune 500 Companies With Love Filled Emails!
How To Triple Your Current Sales...
From your existing email list...
(No matter how big or small)
…without ever needing to be slimy, gross, manipulative or weird!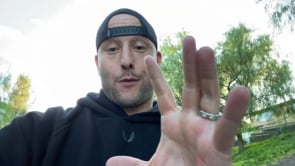 Learn Three KEY Principles Of
ACQUIRING PAYING CUSTOMERS
Key Principle #1: Your List Is Just Sleepy... Not Dead Or Burnt (And It's Easy To Wake Them Up)
Discover how the NEW way of email marketing is very much ALIVE & VITAL going into 2021...
Key Principle #2: People Are Begging For You To Email Them Daily (And It's Easier Than You Think)
Identify exactly what your customers & subscribers WANT & NEED from you RIGHT NOW...
Key Principle #3: Your List Is Worth More Than $1/Email/Month (When You Know How)
Understand with clarity what your list is ACTUALLY worth & why 98.7% of marketers are BLOWING IT
Meet Your Trainer: George Bryant
22-week NYT best selling author, digital marketing consultant, and most importantly... a loving father & husband.
George Bryant has helped hundreds of the largest companies in the world ethically scale their businesses by deepening their relationships with their customers... and creating transformational breakthroughs that help them accomplish their goals.
He believes a company's financial success is directly dependant on the amount of value they share before AND after a purchase. In this workshop he will teach you how to bring more meaningful value to your MOST IDEAL CUSTOMERS' lives, in a simple & systematized process. By utilizing the backbone of your customer's journey, email marketing.
Take Advantage Of This FREE Training
BEFORE YOUR COMPETITORS DO!
George Bryant is a high ticket digital marketing consultant & advisor who helps heart-centered businesses sell their products and services online. We make no claims or representation that by using George Bryant's teachings you will earn money or make your money back. This video presentation and the testimonials shown are hereby used for educational and exemplary purposes only, they are not intended to incite sales. While they do show real experiences from paying users of George Bryant, their business's results are not typical, and your business's experience will vary based upon the effort and education of your business's employees and management, the business model that is implemented, and market forces beyond anyone's control.